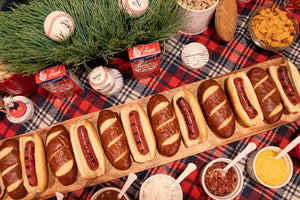 Hot Dog Bar Shopping List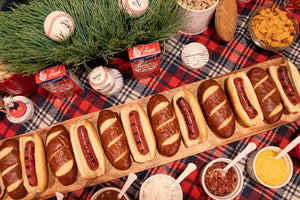 Here are all the ingredients you will need to set up The Curated Tables Hot Dog Bar: 
36 Premium Hot dogs (depending upon your head count)
36 White Hot Dog Buns
Spicy mustard
Red onion sauce (or make it yourself by sautéing 2 diced yellow onions in 2 tbsp extra virgin olive oil; once the onions are carmelized, combine onions with 1/4 c ketchup)
Sauerkraut
3 Yellow Onions
1 lb. Pulled Pork
1 lb. Creamy Cole Slaw
Bbq Sauce
Chili (store bought or homemade works)
Shredded Cheddar Cheese
2 Avocados
1/4 c. Black Beans
1/4 c. Corn
2 tbsp. Red Onion
2 tbsp. Cilantro
1 Lime
We provide everything seen here (minus the food), but if you would rather opt for self-serve, COVID-friendly hot dog holders, we love these!