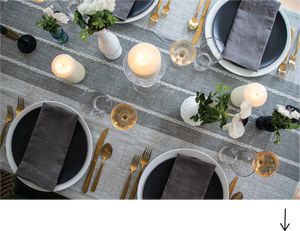 You want to host a dinner party, but it seems like a LOT of work.
You want the table to look nice (if not absolutely stunning). BUT, you don't have the time, budget, or inclination to design a tablescape, hunt down everything you need for said tablescape, purchase all items (probably from all different stores), set the table, plan the menu, cook or manage catering, stock the bar, AND actually find time to enjoy yourself (not to mention where will you store all of this stuff when it's over???).
Sound about right?...
We've got you covered.
Our extensive catalogue of tablescape designs is an affordable and stress-free option for all of your entertaining needs. All tablescape rentals come with everything you need to set your table including plates, silverware, glassware, and decor for your specified guest count. All you need is the food and drink.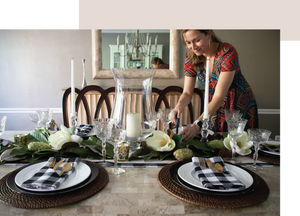 How does it work?
Simply select your tablescape, tell us how many guests will be attending, and reserve your date! We'll be in contact with you shortly after booking to schedule a convenient time for us to come install your tablescape on the day of your event.
After the party we'll come and pack everything up for you. That's it!
Show me the tablescapes!