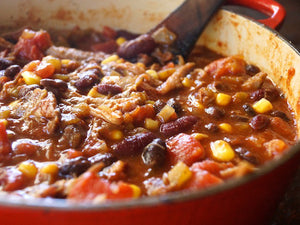 The Curated Table Pulled Pork Chili Recipe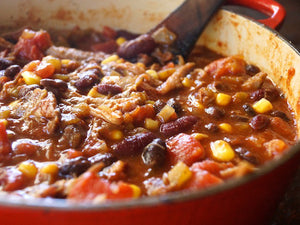 The Curated Table Pulled Pork Chili Recipe
By: 
The Curated Table
Published: October 1, 2019
Prep time: 5 
Cook time: 45 
Total time: 50 
Yield: 8 servings 
Ingredients:
2 tsp extra virgin olive oil
1 Lb. Pulled Pork 
1 Medium Yellow Onion
1 Bell Pepper
1-28 oz Can Crushed Tomatoes
1 Can of Diced Rotel Tomatoes
2 Cans of Chili Beans
3 c. Beef Broth
2 Large Bay Leaves
1 tbsp Cumin
1 tbsp Chili Powder
Sweetening agent [either 1/2 c. diet cola, 2 packets Stevia, or 1tbsp brown sugar]
1/2 c. Roasted corn [I use Trader Joe's brand.]
Salt & Pepper to taste
* If the pulled pork you use is sauced, you may want to add less of the diet cola, as it is used to add sweetness. 
Directions:
Heat 2 tbsp extra virgin olive oil on medium high heat in large pot. 

Dice medium yellow onion and add to hot pot. Salt diced onions liberally.

Dice bell pepper and add to pot. Cook the onion and bell pepper for 4-6 minutes or until translucent. Stirring frequently.

Add the pulled pork. Combine the onion, bell pepper, and pork.

Then add the rotel, crushed tomatoes, chili beans, beef broth, and bay leaves. Turn heat up to high until it begins to bubble. [Note: add the beef broth slowly as you stir. Add as much beef broth to your desired thickness. Keep in mind some liquid will evaporate as the chili cooks.]

Once the chili begins to bubble, add the chili powder, cumin, roasted corn, and diet cola. 

Let the chili bubble away, stirring frequently, until some liquid has evaporated and reached desired thickness. 

Remove bay leaves and taste for final salt and pepper needs. Enjoy!