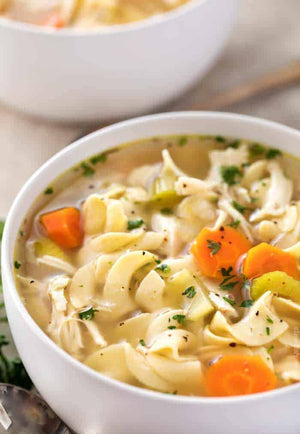 The Curated Table's Classic Chicken Noodle Soup Recipe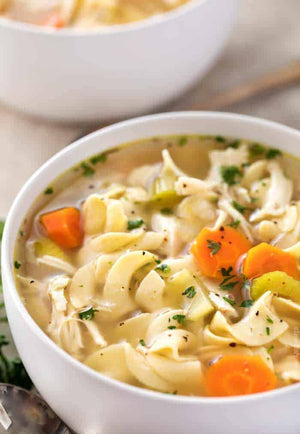 The Curated Table's Classic Chicken Noodle Soup Recipe
By: 
The Curated Table
Published: January 27, 2020
Prep time: 15 
Cook time: 45 
Total time: 1 hour
Yield: 8 servings 
Ingredients:
1 tbsp. Extra Virgin Olive Oil
1 Diced Medium Yellow Onion
3 Diced Stalks Celery
4 Peeled and Diced Large Carrots
8 c. Chicken Broth
1 lb. Boneless, Skinless Chicken Breast
2 c. Egg Noodles
1 tsp. Oregano
Salt & Pepper, to taste
Directions:
Heat the Olive Oil in a large pot over medium high heat.

Once the olive oil has heated, add diced, medium yellow onion, celery and carrots to the hot pot. Salt diced vegetables liberally and cook until the carrots have softened, approximately 15 minutes. Stir frequently.

Add chicken stock and bring the liquid to a boil.

Add the whole chicken breasts to the pot, bring the liquid to a simmer, and cover with a lid. 

Allow the chicken to cook for 15-20 minutes. Taking one chicken breast out at a time, use two forks to shred the chicken and return the shredded chicken to the pot. Continue until all the chicken breasts are shredded. 

Bring the soup back to a boil and add the egg noodles. Boil the noodles for 8 minutes, stirring frequently. 

For the finishing touches, add oregano and fresh cracked black pepper, to taste. Enjoy!
Pro tip: Roughly chopped, fresh parsley used as garnish as you serve the soup is a nice pop of color and fresh flavor.