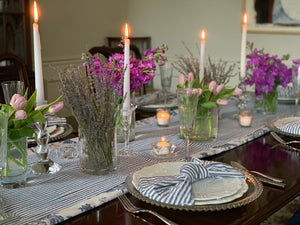 5 Pro Tips for Long Lasting Florals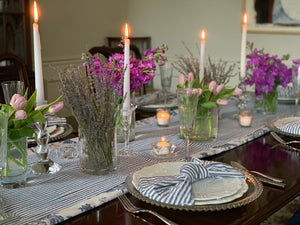 Is there anything better than fresh flowers around the house?
Check out The Curated Table's 5 pro tips for making your florals last for weeks!
1. Trader Joe's Floral Department. They get fresh flowers in daily and I have it on good authority that certain florists around town, which shall not be named, utilize TJ's for its freshness and competitive pricing. 
2. Once you bring flowers home, fill up your sink and submerge the flowers in water before arranging. 
3.  Use kitchen sheers or hand clippers to make a diagonal cut on all stems. This allows maximum surface area to soak up water.
4.  Remove all leaves that will touch the water. These lower leaves can begin to break down and add bacteria to the water. Yuck!
5. Our secret weapon...Crowning Glory spray. This product creates a waxy coating on your flowers to keep moisture from evaporating. Well hydrated flowers mean longer lasting arrangements. It's available on Amazon here! 
 Hope you enjoy these tips! To see how we utilize these tips for beautiful and long lasting florals in our tablescapes check out our French Provençal or Derby Day tablescapes as great examples.