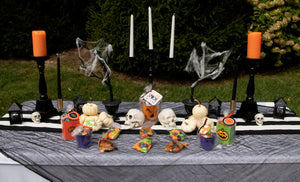 Halloween Celebration During Covid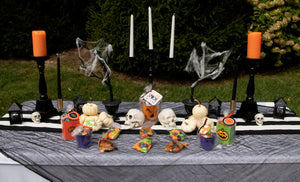 Adults and kids, alike, love celebrating Halloween! But, how will these festivities look in the year of Covid? 
We understand that everyone has their own comfort level for their family so, The Curated Table has put together some suggestions for enjoying Halloween while staying safe: 
Tablescape
This year, outdoor entertaining has been so important to keep germs at bay and to allow sanity saving socialization. St. Louis often has the most beautiful weather during September, October, and November, which allows for continued time outside. Check out our outdoor Halloween tablescapes installed in your yard or driveway. Invite your neighborhood trick-or-treaters to stop by for a joke and a treat before moving to the next house. Add-ons such as tent and lighting are available to complete the perfect setup. 
We love that this outdoor installation allows family and friends (particularly those that my be higher risk) to see the trick-or-treaters in their costumes and see them reveling in the holiday festivities safely!
Goodie Bags
Goodie bags prepared a few days in advance are going to be all the rage this season, for obvious reasons. A bowlful of germy candy?...no thank you! Our good friend at Party Favors by Val H can put together some super cute and affordable options!
Order yours today through her Facebook page or DM her (@partyfavorsbyvalh)!
Drinks
Sure, the candy and games are mostly for the kids, but we didn't forget about the adults!  We love these delicious reds that stay on theme while keeping the heart and the soul warm. Freakshow and 7 Deadly Zins from the Michael David Winery.