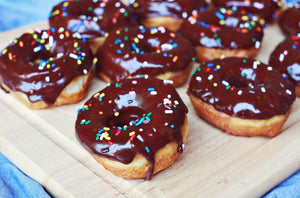 Donut Decorating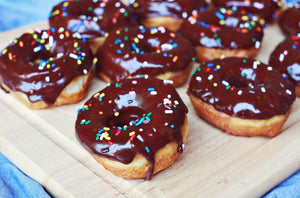 Check out this easy and fun donut holiday surprise for your littles this season! Homemade donut decorating.
This could not be any easier or more delicious!
My husband and I get 2" of vegetable or canola oil heated up in a big pan, while the kids use a 1" circle cookie cutter to punch out the donut holes. In a pinch you can go free form with a knife, they still turn out well. The kids roll the donut holes into circles. Don't skip this step or the donut holes will end up looking more like donut worms as they expand in the hot oil. We fry the biscuits over medium high heat for 3-4 minutes per side. Keep the donuts cooking even if they look like they are getting a little darker than you would like; or else the insides will not be cooked through. 
Pull the donuts and donut holes from the pan and place on paper towels to soak up some oil and to cool. Give them 5 or so minutes to cool or the decorations will not stick as well to the donuts. Next, we like to set up a buffet of toppings/decorations for the kids to get creative. Our favorites include: powdered sugar, cinnamon sugar, melted frosting, seasonal sprinkles, and marshmallows. Add some food coloring to white frosting for a colorful addition. 
Donut decorating would be perfectly paired with our
Rustic Winter tablescape rental
. Invite some friends and/or family over for homemade donuts and hot chocolate! Such a fun and festive way to celebrate the season!