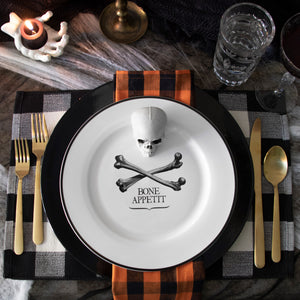 How to Host the Perfect Casual Halloween Get Together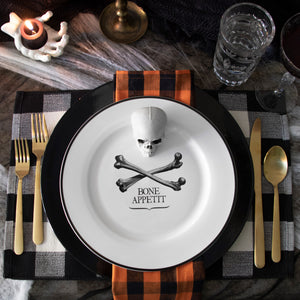 Anyone else have trouble waiting to pull out their Halloween décor?
For us, October 1 means the wait is over! The decorations are out and the Halloween festivities begin. Whether it be a trip to the pumpkin patch and carving or Halloween night, our Halloween Party tablescape makes entertaining this time of year so easy and fun. Kids and adults alike will find something delightful incorporated into this black and orange scape.
We love installing the Halloween Party buffet option on the dining room table for a self-serve chili bar to warm cold trick-or-treaters as they come and go. Our Pulled Pork Chili recipe is always a crowd pleaser. Simple white bowls are perfect to showcase the hearty chili. Don't forget to put out the diced red onion, shredded cheddar, and corn chips for crunching or scooping.
Traditional or spicy corn bread is an effortless addition to the meal. We keep it easy and use a box mix, stir in a can of creamed corn, and fresh, diced Jalapenos, for a spicy twist, then bake. We recommend cooking slightly less than the box directions suggest for the perfect texture. To take your cornbread to the next level, drizzle the incomparable Fermented Jalapeno Honey Sauce from Anya's Apothekere over the top to finish.  Click the link to check out this amazing sauce.
Looking to set the mood as the trick-or-treaters begin arriving? Check out The Curated Table's Halloween playlist on Spotify.