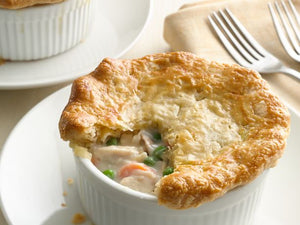 The Curated Table Personal Pot Pies Recipe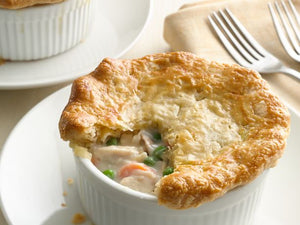 The Curated Table's Personal Chicken Pot Pies Recipe
By: 
The Curated Table
Published: October 1, 2019
Prep time: 20 
Cook time: 30
Total time: 50 
Yield: 6 servings 
Ingredients:
 Puff Pastry*
1 medium yellow onion
1 lb boneless, skinless chicken breasts
6 tbsp salted butter
5-6 tbsp flour
2 c. chicken stock 
1 c. milk (You can use heavy cream or half & half for a richer sauce, or any kind of milk you have in the fridge.)
1 bag frozen vegetables (green beans, peas, carrots, corn)
1.5 tsp. tarragon (you could also use rosemary)
Salt 
Pepper
6 individual ramekins (ours are approximately 6" rounds)
*Reminder to place your store bought puff pastry in the fridge overnight to defrost.
Directions:
Preheat your oven to 350℉.

Place large pan over medium high heat and add butter.

Dice yellow onion and add to pan. 

While the onions are cooking, place a medium pot with water over high heat and bring to boil. Once the water is boiling, add chicken. Allow the chicken to cook for 10-15 minutes on a rolling boil until the chicken is tender and fully cooked through. Remove the chicken and place on your cutting board. Use two forks to shred the cooked chicken. 

Once the onions are translucent, slowly begin adding flour one tbsp at a time, stirring constantly. You are creating a roux with a firm paste-like consistency. 

Once the paste has become firm, and while you continue to stir, pour in the chicken stock and milk. As the mixture heats, it will thicken into a creamy sauce. 

Once the sauce reaches the desired thickness, turn the heat to medium, and add frozen vegetables and shredded chicken, from Step 3, above.

Add tarragon and salt and pepper to taste. 

Now that the filling is done, spoon evenly into your ramekins and cut out 6 circles from the puff pastry that are each slightly larger than the top of your ramekins. Place the puff pastry circles on top of your ramekins, one each, and lightly press the pastry down to the sides of the ramekins to secure. 

 Place the filled ramekins on a  sheet pan and place in your preheated oven. Follow the instructions on the puff pastry packaging for bake time. Remove from oven, let cool slightly, and enjoy!