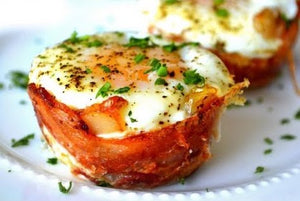 The Curated Table's Egg Cup Recipe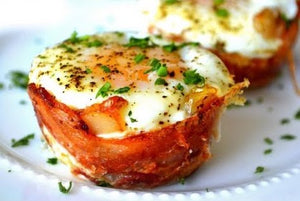 The Curated Table's Egg Cups Recipe
Our delicious and elegant Egg Cups are an easy way to host brunch with this make-ahead recipe.
The Curated Table's Egg Cups Recipe
By: The Curated Table
Published: March 7, 2020
Prep time: 15 
Cook time: 30 
Total time: 45 hour
Yield: 6 servings 
Ingredients:
12 Slices of Bacon*
3 c. Shredded Hash Browns
2 c. Shredded Cheddar Cheese
12 Large Eggs
Salt & Pepper, to taste
Fresh Chives or Parsely, for garnish
* You could use also turkey bacon, Canadian bacon, or similarly-shaped meat substitute.
Directions:
Preheat oven to 350℉ and prepare a muffin tin, by spraying all sides with cooking spray. (Do not skip this step. The bacon does not provide enough grease to avoid sticking.)

Line the sides of each muffin cup with a slice of bacon. I like to make a circle shape, insert into the cup, and then spread it around the rim of the cup. See the picture above for a visual guide. 

Add a tablespoon or so of the shredded hash browns to the bottom of each cup. Remember you will also be adding cheese and eggs, so don't overdue it with the hash browns or you cups will overflow.

Top the hash brown layer of each cup with approximately one teaspoon full of shredded cheddar.

Crack one large egg on the top of each muffin cup. 

Put the muffin tin in the oven for 30 minutes or until your eggs are cooked to your desired doneness. I like my eggs to have a slight runniness to them. 

Season with salt and pepper, to taste. Go easy on the salt as the bacon and cheese add a good amount of saltiness to the cups. Enjoy!
Pro tip: Add fresh chopped chives or parsley to the top of each cup for an elegant, tasty, and eye-catching garnish!