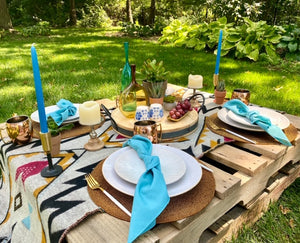 The Curated Table's Guide to Picnic Perfection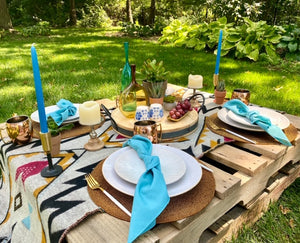 As the weather begins to turn, it's sad to say goodbye to sunny, pool days, but, on the bright side, the cooler temps are perfect for picnicking! What a wonderful way to enjoy the outdoors and entertain while remaining safe!?
The Curated Table has put together the perfect picnic guide to make the most of any outdoor dining experience. 
Follow these fun ideas for elegant entertaining al fresco.
Tablescape
We love the rustic look of wood pallets stacked to create a base for your spread. Cover the pallet with a festive throw, table cloth, or...our personal favorite...an oversized fall scarf! 
For your centerpiece, an array of mums, gourds, pumpkins, and apples give a nod to the fall season, while also utilizing items you probably already have around your home. 
Food
Our favorite way to nibble?... A charcuterie board packed with meat, cheese, fruits, and veggies. Create a personal board for each guest/couple/family attending the picnic to keep things Covid-friendly. Guests will love the "help yourself" feature! 
We are also excited to be collaborating with @lorrainelovescheese (lorrainestl.com) to offer a no-brainer add-on to any of the picnic tablescapes offered by The Curated Table. Check out her website to chose your favorite food board. 
Our clients love the ease of one-stop-shopping. Order your picnic installation and we can coordinate the food board as well!
Drink
For fall entertaining, we love to incorporate a Moscow mule mug to the table setting. Perfect for enjoying your favorite autumn cocktail or cider. Check out our delicious Fall Fizz Cocktail for inspiration. 
We are also huge fans of Brennan's recent venture, Booze and Snacks. Order a bottle of perfectly mixed old fashioned to pour over the rocks in a mule glass. Check out the website here for all their offerings. 
Music
Don't think we forgot about the tunes! As always, check out our laid back Spotify playlist curated for the perfect picnic! Charge up your wireless speaker and enjoy!
Happy picnicking!
Love entertaining al fresco, but don't have time to coordinate, give us a call or send us a message and let us help!