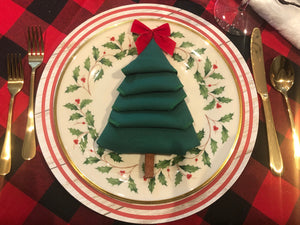 Christmas Tree Napkin Folding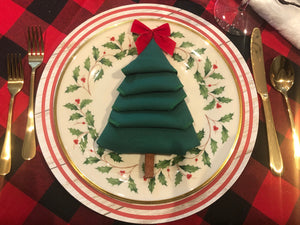 This tree-shaped napkin will add a festive touch to your holiday meal!
Below are detailed instructions, as well as, the YouTube video for your reference.
Instructions: 
Using a square shaped cloth napkin, first open it up completely and fold it in half bringing the top to the bottom.
Then fold the napkin in half again, bringing the right side over to the left side and matching up the edges.
Turn the square one quarter turn to the left so it's in the shape of a diamond and the open flaps are pointing down.
One flap at a time, bring each layer up to the top about 2 cm away from the edge of each side.  
Keep layering with each flap until the napkin has 5 layers and the whole napkin is in the shape of a triangle.  
Now carefully flip the entire napkin over so the smooth back is facing up.
Take the right point of the triangle and fold it up to the middle of the left side.  Then take the left point and fold it over the same way to the right. At this point, it should resemble an ice cream cone shape.
Flip the entire napkin over again and turn the top to the bottom.  Fold under each pointed flap tucking carefully so it makes a horizontal line. Do with each layer until it takes on the tree shape.  
Finally, place carefully on the center on the dinner plate and decorate the tree using a cinnamon stick as the tree trunk and/or ribbon to make a bow for the top of the tree!