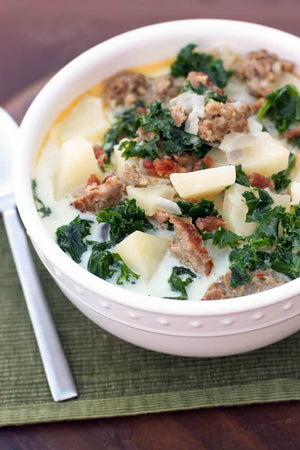 Zuppa Toscana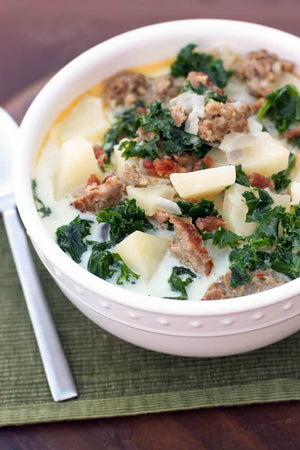 The Curated Table's Zuppa Toscana Recipe
By: 
The Curated Table
Published: January 10, 2020
Prep time: 10 
Cook time: 45 
Total time: 50 
Yield: 8 servings 
Ingredients:
4 slices Bacon
1 Medium Yellow Onion
2-3 Italian Sausage Links (can substitute Italian chicken sausage)
8 c. Chicken Broth
2 c. Loosely-packed Spinach
1 Can Cannellini Beans
3/4 Head of Cauliflower
1 c. Heavy Cream
2 Lemons
Salt & Pepper to taste
Directions:
Heat a large pot over medium high heat. 

Roughly chop bacon and add to hot pot. Allow the bacon to render down for 4-5 minutes.

Dice medium yellow onion and add to hot pot. Salt diced onions liberally.

Remove the casings from the sausage and add to pot once the onions turn translucent. Break up the sausage using your utensil and cook until browned.

Chop the cauliflower into small bite-sized pieces.

Add chicken broth, beans, spinach, and cauliflower to your pot.

Bring the soup to a boil. Once the soup is boiling, bring to a simmer and allow to cook down for approximately 30 minutes, stirring periodically.

For the finishing touches, stir in the heavy cream and the juice of one lemon. Also, cut the other lemon into wedges to serve along side your soup. Enjoy!
Pro tip: If you have a few extra minutes, roasting the cauliflower, drizzled with olive oil, salt, and pepper, in a 400 oven for 15 minutes before adding to your soup, incorporates another fun flavor profile.