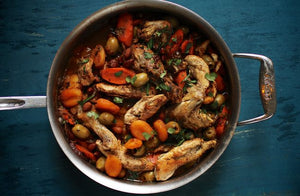 Moroccan Nights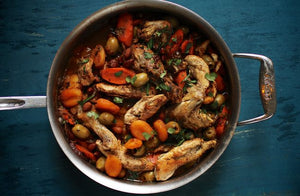 In the dregs of winter, we all want to cuddle up at home in front of the fire, but why does our social life have to suffer? Why not throw a dinner party at home?!
Heat things up with our Moroccan tablescape. It sets a sexy and sultry mood perfect for hosting a couples dinner party, a flirty girls night in, or book club. From the beautiful gold lanterns, the elegant china, and the bold color palate, your guests and you will be stunned.
We recommend pairing this tablescape with a Moroccan-themed meal served family-style. Our Moroccan Chicken with olives and apricots atop couscous will transport you from the icy Midwest to a warm, evening in Marrakech.
Bonus Tip: pair the Morrocan tablescape for your next book club event by choosing The Forgiven by Lawrence Osborne. Not only is this dramatic and debaucherous book about westerners in Morroco a best-seller and a fun read, but is being adapted to a move starring Ralph Fiennes and some other handsome leading men. Click the link to read the New York Times' review of The Forgiven.