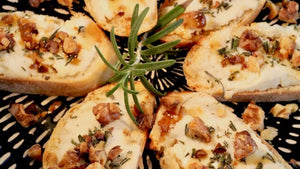 The Curated Table's Sweet and Savory Crostini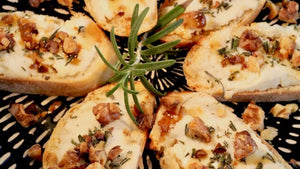 The Curated Table's Sweet and Savory Crostini Recipe
By: 
The Curated Table
Published: January 6, 2020
Prep time: 10 
Cook time: 10 
Cooling time: 10 min
Total time: 30 minutes
Yield: 12 servings 
Ingredients:
1 French baguette
Olive oil
8 oz. Goat cheese 
6 oz. Pecans
3 Large sprigs of Rosemary
1/4 c. Honey
Directions:
Preheat oven to 350. 
Slice the baguette into 24 pieces. This easiest way to do this is to cut in half and then in half again. This will allow you to properly gauge the thickness you need to cut for each slice. Place the slices on a sheet pan.
Lightly drizzly olive oil over the sliced bread and season with salt and pepper, to taste. Place the sliced bread in the preheated oven for 10-12 minutes, until the edges of the bread begin to brown.
While the bread is toasting, roughly chop the pecans and rosemary. 
Once the bread begins to brown, remove it from the oven and allow it to cool for 10 minutes to make it easier with which to work. 
Once the bread cools slightly, spread each slice with a teaspoon or two of goat cheese. The spread should completely cover the top of the bread, but not be too thick. You want to balance all the flavors you will be adding in the next step. 
Once the bread it topped with the goat cheese, sprinkle on top approximately 1/2 teaspoon each of the rosemary and pecans on each slice.
Drizzle the honey over the topped bread slices. Again, the goal is to balance all of the flavors so 3-4 drizzles per slice should be sufficient.
Arrange on your favorite platter, garnish with a sprig of rosemary, and enjoy!