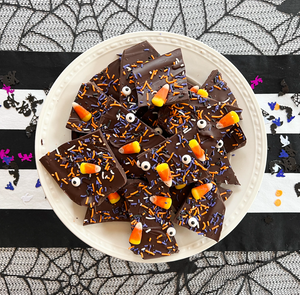 Spooky Halloween Bark Recipe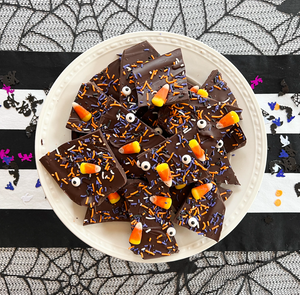 The Curated Table's Spooky Halloween Bark Recipe
Your little ghosts and goblins will love this sweet treat! So fast and easy!
The Curated Table's Curried Butternut Squash Soup Recipe
By: The Curated Table
Published: September 2, 2022
Prep time: 5 minutes
Cook time: 10 minutes
Total time: 15 minutes
Yield: 8-10 servings
Ingredients:
16 oz. Dark Chocolate Morsels 
Halloween Sprinkles
1 Bag of Candy Eyeballs
1 Bag of Candy Corns
Optional: Twisty Pretzel pieces
Directions:
Prepare a 9x13 metal or glass baking dish by buttering the bottom and topping with parchment paper.  a microwaveable-safe bowl .
Place the chocolate morsels into a microwaveable -safe bowl.
Microwave the chocolate in 30 second intervals, making sure the stir thoroughly after each increment.
Once the chocolate is melted, transfer it to your prepared baking dish. 
Immediately begin decorating the melted chocolate with the candy eyeballs, candy corn, and festive sprinkles. 
Place the decorated chocolate into the fridge to set and then enjoy!