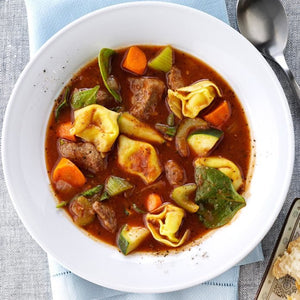 The Curated Table French Stew Recipe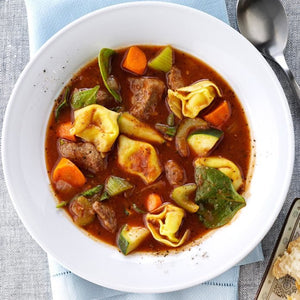 The Curated Table French Stew Recipe
By: 
The Curated Table
Published: November 24, 2019
Prep time: 30 
Cook time: 3 hrs
Total time: 3.5 hrs
Yield: 6-8 servings
Ingredients:
2 TBSP Extra Virgin Olive Oil
2 lbs Beef Stew Meat
1 Medium Yellow Onion
2 Cloves Minced Garlic
2- 10 oz. Beef Consumme Soup
44 oz. Beef Broth
2 c. Water
1- 15 oz. Diced Tomatoes
3 TBSP Tomato Paste
1 Bay Leaf
1/2 lb. Green Beans
3 Diced Large, Peeled Carrots 
1 Diced Small Zucchini
1/4 c. Tapioca
1/3 c. Red Wine
1 TBSP Brown Sugar
1 TBSP Worchestershire
1 Package Tortillini
1 c. Green Peas
Grated Parmesan, for garnish
Salt & Pepper
Directions:
Heat a large pot over medium high heat and add extra virgin olive oil. Pat the stew meat dry. 

Once the oil is very hot, add the stew meat, diced onion and minced garlic. 

Brown the stew meat on all sides, turning meat every 5-6 minutes until all sides are browned. 

Pour in 2 cups of beef consumme to cover the browned meat and place the lid on the pot. 

Check the stew meat every 15 minutes, or so, to stir and add more beef broth to keep the meat covered with liquid. Continue this process for 1.5-2 hours. At the end of that time, the stew meat should be very tender. This step is very important. 

Once the stew meat is tender, add the remainder of the beef broth, water, tomato paste, diced tomatoes and bay leaf. 

Chop and add the following vegetables to the pot, cutting all vegetables to approximately the same size: green beans, carrots, zucchini. 

Turn the heat to medium and cook until vegetables are tender. 

Add the tapioca, rice wine vinegar, brown sugar, and worcestershire sauce. Stir to incorporate. 

Add the tortellini and follow the package instructions for cook time, approximately 8 minutes, if fresh pasta. Add green peas. 

Taste the broth and add salt and pepper, to taste. 

Serve the soup with a sprinkle of parmesan cheese on top.